Many girls are afraid to buy clothes in bright colors for their wardrobe. Mainly because they don't know how to combine such colors correctly, and they think that they will look ridiculous in them. Therefore, they usually choose things of calm tones. Although in many cases bright colors would suit them incomparably better than quiet and neutral ones. In the article we will talk about how best to combine light, joyful shades in clothes. In addition, these color combinations are useful for designers.
The importance of the right combination
Since the secret of creating a bright and harmonious image lies not in the selection of famous brands, but in the manifestation of delicate taste, it is important to be able to combine colors correctly, especially since they are the first thing people around you see. Bright accessories and clothing details are quite capable of raising the mood in the gloomy autumn-winter period, as well as reflecting the inner state in spring and summer, when everything around begins to bloom and smell fragrant. If the colors are not quite right, it is immediately noticeable and causes a feeling of disharmony.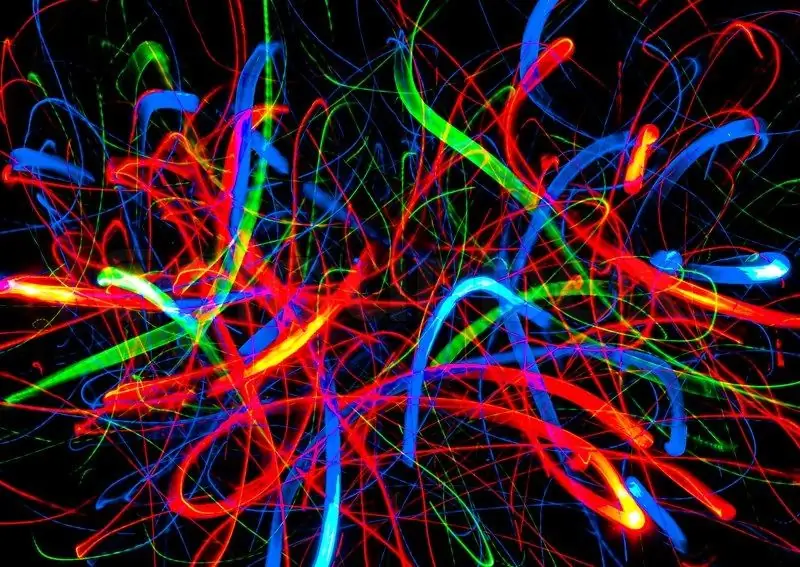 Basic rules
Let's go through the basic rules for combining bright colors. First, they should be paired with neutrals, which will almost always be a good choice, with the exception of pairing with black. Formally, it is also considered neutral. But when using it and bright flashy tones at the same time, the image can turn out to be defiant and catchy. However, if your goal is to stand out from the crowd quite radically, then this combination may suit you very well.
You can do more elegantly: do not make black the main color in the composition, but combine it with a bright and neutral color, such as white, beige, gray, navy blue or brown. By the way, the color that goes well with all the others is considered neutral. Such tones are not taken into account when creating an image using the three-color rule, which implies a limit on the number of primary colors in the wardrobe, so they allow you to dilute it with a variety of shades without violating the integrity of the image.
Especially fresh and spectacular appearance is obtained by combining one bright shade and several neutral ones. Gray and beige, for example, pair beautifully with soft pastels. For example, with pink, lilac, light yellow. There is no risk that you will look like a cream cake. The same goes for the combination of these base colors and neon.
In addition, neutral colors have the advantageous ability to make overly bright looks more subdued. For example, a gray cardigan might welladjust your appearance if the rest of the clothing turned out to be defiant in combination.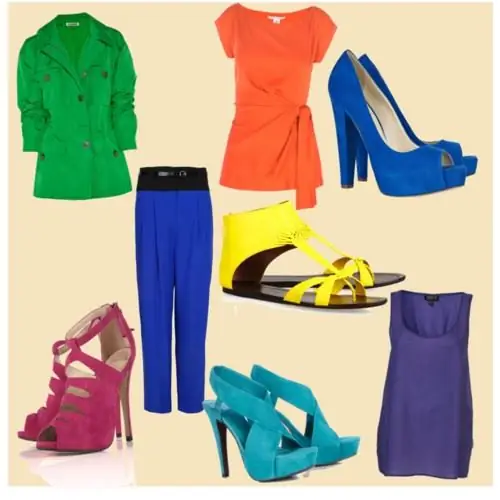 Color wheel rule
The second rule of color combination says that it is necessary to combine colors that are on diametrically opposite sides of the color wheel. Such shades are called complementary. They complement each other very well. In the image, they will look perfect if you dilute clothes of the same color with a small accessory in a complimentary color.
The third principle involves the combination of various shades of the same color. This is almost always a good solution, but the main thing is not to overdo it.
The fourth rule allows you to combine colors that are close to each other in the color spectrum. For example, blue and bright red are part of purple. Therefore, their combination looks spectacular and beautiful.
And it is also worth remembering a wonderful example on which you can learn successful color combinations - natural natural landscapes. They sometimes have very bright hues, and you can hardly see how they blend tastelessly with other tones in the landscape.
List of vibrant colors
Here you can mention all the saturated shades of the color wheel:
basic - red, yellow, blue;
extra - blue, purple, green, orange, pink and many more.
Each one pairs best with certain shades.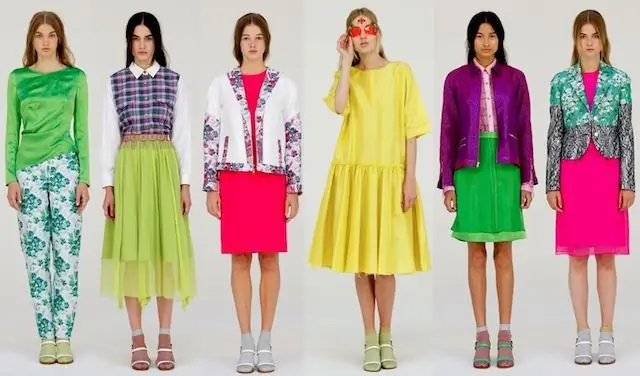 Combinations with bright red
Red is the most saturated and most pronounced color in the entire color spectrum, so it has a powerful mental effect on us. As you know, it has a stimulating effect on the psyche. Therefore, a woman dressed in all red will certainly attract everyone's attention, but will seem overly defiant. Soft blue will help to make this shade more calm and muted.
The concentration of this color in the ensemble depends on how much you want to "calm down" the bright red. The beige color also performs the same function - a good combination will also come out with it. It does not become cold, but makes red more comfortable and calm. In addition, you can combine blue, bright red and blue, balancing it with white elements of the wardrobe.
It is worth remembering that the bright red color well emphasizes all the flaws of the figure. Therefore, with elements of clothing of this shade, you should be more careful. Perhaps it is not very suitable for everyday wear, unless you are 100% confident in yourself. But in the smallest quantities, it is great to start experimenting with bright color combinations in your wardrobe, and perhaps also in the interior.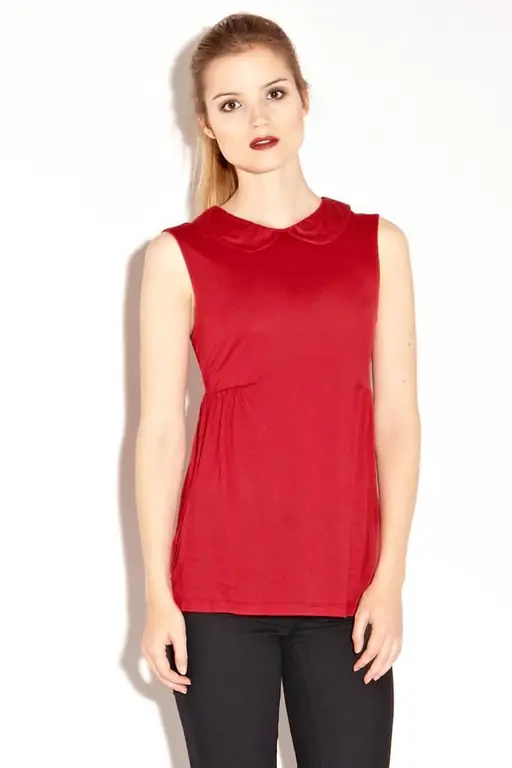 Combinations with scarlet
In addition, you can choose alternative shades of red, such as scarlet. This is a rich shade, but at the same time more calm. It goes well with the same rich shade of blue, because both of them are strong and energetic, and their combination is onlyenhances this effect. In addition, the scarlet color looks good next to the cold white. Due to the latter, he becomes more rich and noble.
You can also combine all these three shades and complement them with brown accessories, you get a very effective and "tasty" combination.
Combinations with hot pink
By the way, scarlet, according to modern fashion canons, goes well with pink, but with its light and delicate shades - it used to be considered a sign of lack of taste.
But the combination with hot pink color makes the image both provocative and gentle. Milky shades of white will add lightness to the wardrobe, and gypsum white will make it bold and bold, especially when paired with fuchsia.
Gray can tone down a hot pink and balance out a flashy look because it's neutral. A powdery taupe looks especially good.
The denim tone also brings out the beauty of hot pink. It, as well as black, can be a good option for an evening ensemble.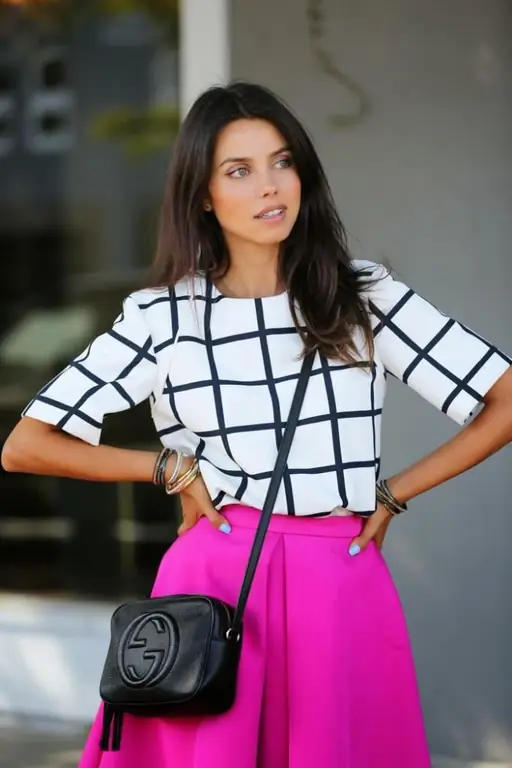 Combinations with bright yellow color
Yellow is perhaps the most cheerful color possible. It is usually associated with the sun, summer and warmth. Therefore, in our culture, it causes only pleasant sensations. But it also needs to be able to be combined with other shades. One of the classic options: yellow and white shade. This ensemble is perfect for a summer look.
Also goes well with bright yellow black. The resulting image isstrong, but sometimes too strict. It looks especially impressive when the entire wardrobe is black, and one single accessory stands out in cheerful yellow, or vice versa. You can also combine it with black and white.
If the yellow color is softened, then it can be safely combined with gray. This outfit looks very good in casual style.
In addition, combinations of bright yellow with blue, turquoise and purple look bright in summer. The easiest option is to wear blue jeans and add a bright yellow blouse or shirt to them. This will create a spectacular look.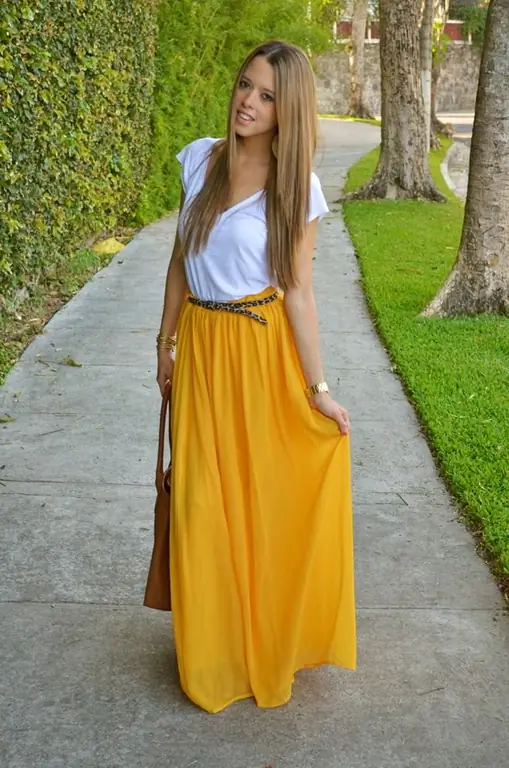 Combinations with bright green
Green, one of the most natural in any of its shades, goes well with almost all shades, if you choose and keep the right proportion. Vibrant green is the color of young greenery and springtime and pairs beautifully with other natural colors such as pink, white and yellow. Details of clothing in such shades diversify the basic green and give it a slight charm. The combination of yellow and green is very optimistic and joyful. With white, it looks more classic and calm, while pink adds charm to green shades.
Bright green and brown look just as beautiful. This look will look very natural and calm, so it is good for everyday outfits.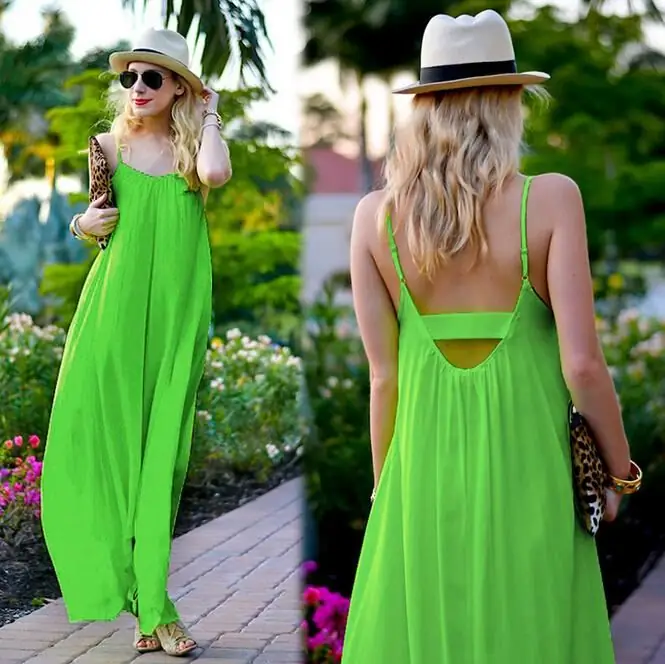 Things to remember
In addition to the basic rules for combining colors, you should know how best tocombine multi-colored accessories and wardrobe elements of beautiful bright colors. So, the shade of the shoes should be the same as the main shade of the image, but the accessories should be of an additional color. In addition, you can visually make your legs longer if you match the shoes to the color of trousers, stockings or tights.
Shoes, which in their shade are much lighter than the main color of the image, inevitably attract attention to themselves much more than the person himself. This can be avoided. It is recommended to wear shoes one or two shades darker than the dominant color. And if your image is built on light or even pastel colors, you should not wear black boots or shoes. It is much wiser to choose shoes in metallic shades - bronze or copper.
If the wardrobe mostly consists of clothes of cold shades, then you can buy silver-colored shoes, and if, on the contrary, from warm colors, then golden ones. Such an image will look harmonious and elegant even with bright colors.
To summarize. Don't be afraid to experiment with looks. You can choose your perfect combination of bright colors for any appearance. You can successfully combine each of the rich shades with the tones that suit it, creating an interesting and original image and thus emphasizing your individuality. A riot of colors can and should be brought into your life, and in the conditions of our country, at least at the level of clothing.
Recommended: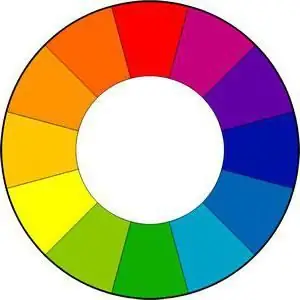 A person is very receptive to color, perceiving it as a zone of comfort or, on the contrary, discomfort. Conventionally, colors are divided into cold and warm tones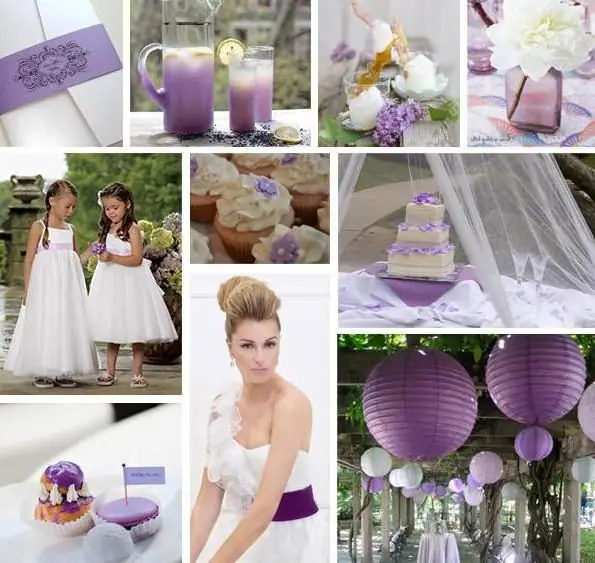 Purple is the most mysterious and unearthly color. It has both a flame of fire and a cold blue, which gives incredible showiness and attractiveness. In the ancient world and today, shades of purple are very popular in clothing and interior design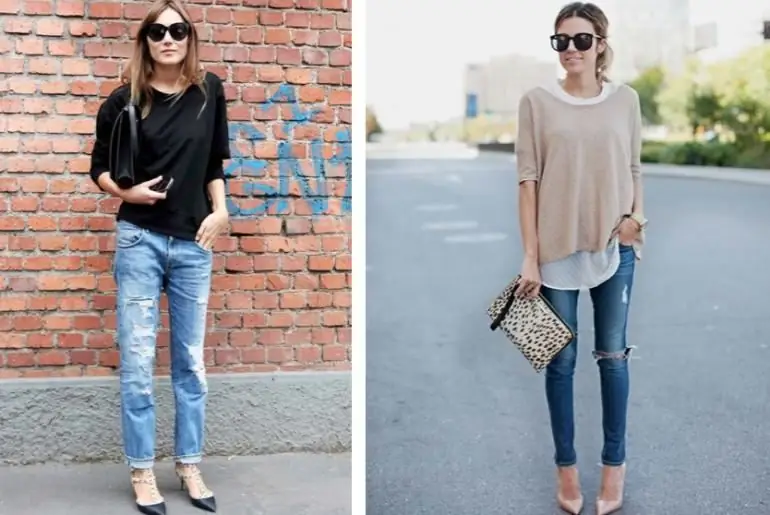 In the modern world, each person tries to emphasize his individuality, to stand out from the crowd. As they say, they meet by clothes … And most often this is true. What do you pay attention to when you look at passers-by, for example, through the window?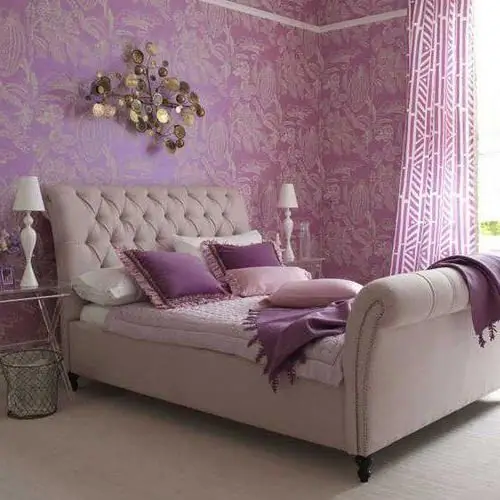 The complex lilac color very often causes difficulties in making combinations. In coloring, lilac belongs to the shades of the third order, so for its combination you need to take into account more nuances than with other color schemes. The combination of colors, in which lilac is the main one, can be bright or delicate, depending on the choice of companions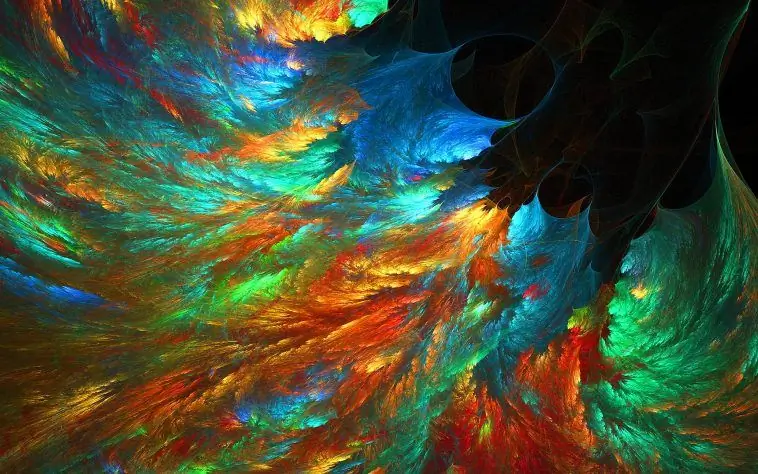 How to get an ink color, what color it is combined with, examples of use and obtaining. Applying such a tone instead of peremptory black or too energetic blue means getting unexpectedly deep and diverse options for interior design, clothing