French designer Emile Galle is considered one of the main representatives of the Art Nouveau style. His naturalistic design, combined with innovative technology, made him one of the first glass manufacturers in the late 19th and early 20th century. It is not surprising that the Frenchman drew inspiration from nature and plants. The strong influence of Japanese designers also affected, due to which his work was called "poetry in glass." Galle developed a technique for the production of cut fine and enamelled glass. The images in his work were enhanced by the vibrant colors and transparency of the material. His glassware and artistic style had a great influence on other Art Nouveau artists of the time, including the Daum brothers. In 1901, Galle founded and became the first president of the "Ecole de Nancy", "Alliance Provincial de Industries d'Art", the purpose of which was to organize and protect all those involved in the decorative arts of art.nouveau.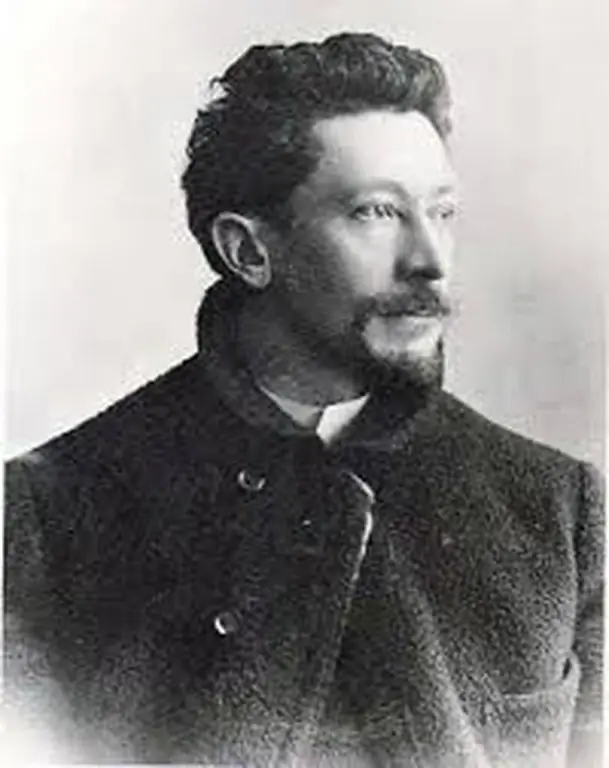 Biography
Emile Galle, born in the Eastern French city of Nancy in 1846, was destined to be a glassmaker. His father Charles was a successful faience manufacturer and a glassblower in his own factory. The young Émile Gallé began painting faience and helping to cut and enamel glassware. Having studied botany, chemistry, philosophy and art, he later studied glassmaking techniques in Meisenthal before joining his father in the factory in 1867.
He traveled extensively in Europe, developing his knowledge in this area, visiting museums and studying the work of other famous artists. He was introduced to the technique of enamelling, which he discovered in the oriental collection of the Victoria and Albert Museum in London, and was fascinated by the great designers' cameos. Upon his return to Nancy, he began to experiment with his new knowledge. Emile Galle's early works are mostly made of transparent glass, decorated with enamels.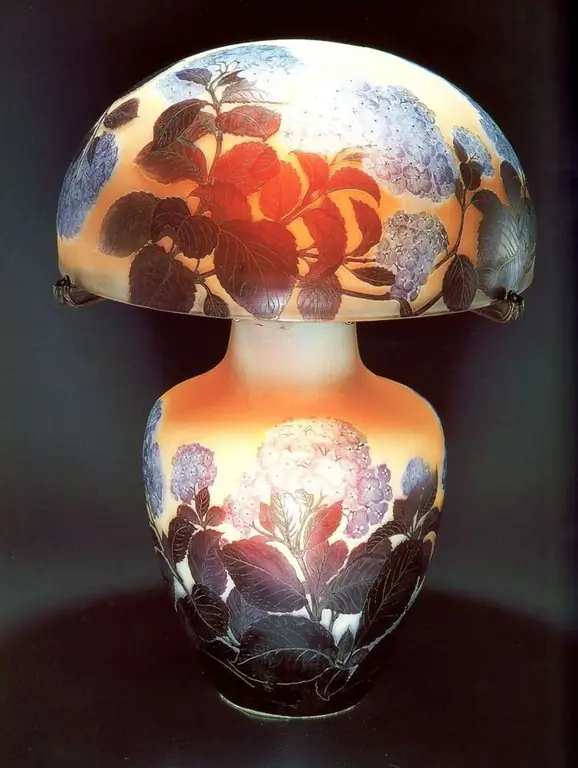 Features of artworks
Emile Galle lived in an era of technological, scientific and political explosion. He revolutionized the art of glassmaking by combining ancient techniques such as enamelling, cameo and inlay with his own designs and industrial innovations. Combining heavy frosted glass with Japanese style, Galle gave his pieces an air of mystery by carving or sealing an image inside each piece. This creative and innovative feature will soonbecame his trademark. Galle's imagination and the constant incorporation of new technologies have made it possible to create products that are unmatched to this day. He believed that his glass vessels should be more than just functional containers. Nature was his source of beauty and inspiration. Each bowl, vase or jug was inspired by the natural balance of light and dark, birth and death, growth and decay. In Galle's glass jars, you can find colored spots, constellations of air bubbles, shimmering spots of embedded metal foil, and even insects that seem to be floating in a haze.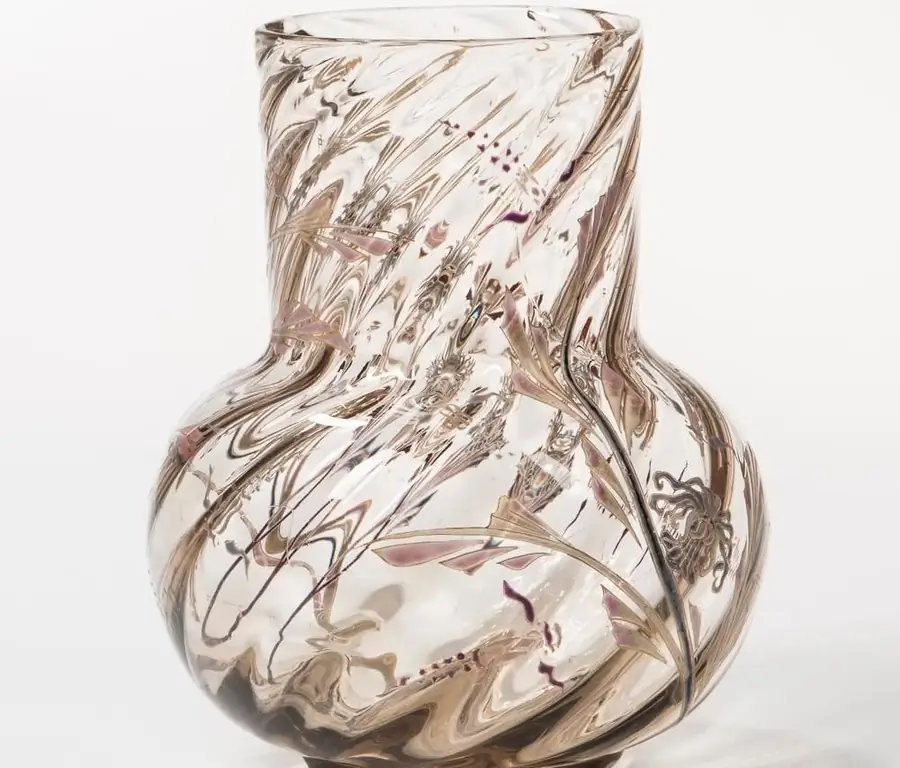 Create your own production
In 1873 he set up his glass workshop and in 1877 acquired his father's glass and ceramics factory in Nancy. Gallé's work became widely known after being awarded the Grand Prix at the 1878 Paris Exhibition. There he encountered the work of the Englishmen Locke and Northwood. Also, the master was amazed by the technology of marquetry (wooden mosaic) in the art of furniture making. Galle opened a small woodworking workshop in 1885, where he began experimenting with marquetry in the manufacture of furniture.
In 1884 in Paris, he presented 300 of his works of art. And the world exhibition, which was held there in 1889, was a breakthrough for Halle and the Art Nouveau style in general. His works began to be widely imitated, especially in the factory of the Daum brothers in Nancy. By 1891, he exhibited in the salons only selected works that were acquired by museums.and collectors.
In 1894, Galle built a factory in Nancy and began to create his own projects. Throughout the 1890s, at his Cristallerie d'Emile Gallé, he created many new productions and hired a team of master designers to work on his designs and sign them after approval. The factory employed 300 people, and the demand for Halle's work was very high. In fact, he revolutionized the art glass industry by becoming the first to mass-produce products using industrial technology.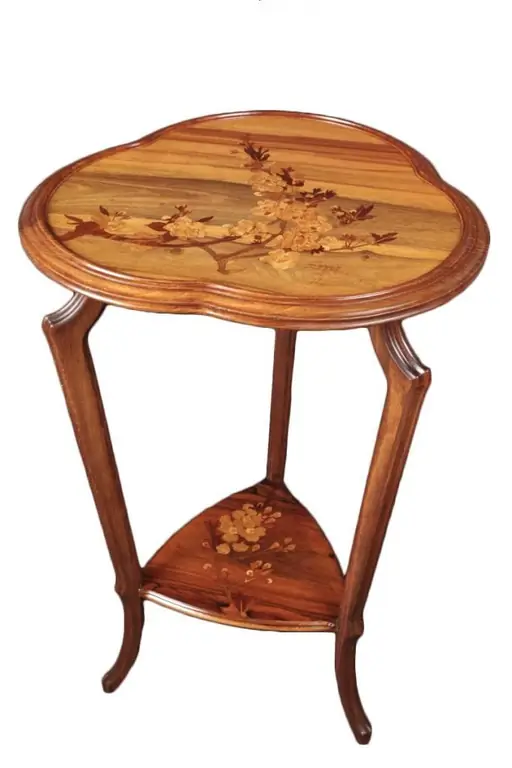 New technologies in creating works
Thanks to his irrepressible thirst for discovery, Galle was constantly experimenting. He discovered that metal foils could produce extraordinary effects when used in the glass making process, especially when incorporated into cameos. He placed it between sheets of colored glass. His enamels were just as revolutionary. Emile Galle mixed glass with metal oxides and suspended them in oil, giving the finished parts a completely different look after firing.
Development and emergence of new motives
In those years, many works by Emile Galle (the photo is in the article) were exhibited with great success, receiving international awards, recognition and increased public interest. Every piece created by the illustrious factory has been strongly influenced by Galle's passion for natural design. His products are decorated with many plants: from thistles to fuchsia, clematis and chrysanthemums. Often Galle also used the theme of insects: in manyhis artwork features butterflies, dragonflies and beetles.
He applied his favorite motifs not only to vases. Emile Galle's table lamps made a terrific impression, in the manufacture of some of them he cut the edges with a spinning wheel. This technique was originally used and developed in the 8th century BC, and was improved much later, in the 18th century.
Awards
At the International Exhibition of 1900 in Paris, Galle had an outstanding display, including a working oven in the center. The show was highly acclaimed and Galle won two top prizes. It was the last triumph of his career. Throughout his life, the master has won many awards, including the Order of the French Legion of Honor.
Legacy
In an effort to make Art Nouveau known throughout the world, Galle founded the Ecole de Nancy to promote it and create an alliance between art and industry. Only men who achieved outstanding success in certain areas could be members. Among them were the potter Louis Hesteaux, the fine glass makers and other owners of the Nancy factory, the Daum brothers, and the furniture makers Victor Prouvé and Louis Majorelle. Galle remained president until his death from leukemia in 1904. The Ecole de Nancy did not stop production until 1909, and the master's widow worked at the glass factory with Victor Prouvé. All glassware continued to be signed by Emile Galle, although a star was engraved next to it, indicating that the pieces were made afterhis death. Then, with the outbreak of the First World War in 1914, production ceased. And resumed only after its completion, when Paul Perdriset, son-in-law of Emile Galle, headed the factory. Paul's contribution was to add new designs that retained the same technique and style that the maestro used throughout his life. Production ceased completely in 1936. Galle's work is housed in almost every museum in the world, including the Metropolitan, the Smithsonian and the Louvre in Paris.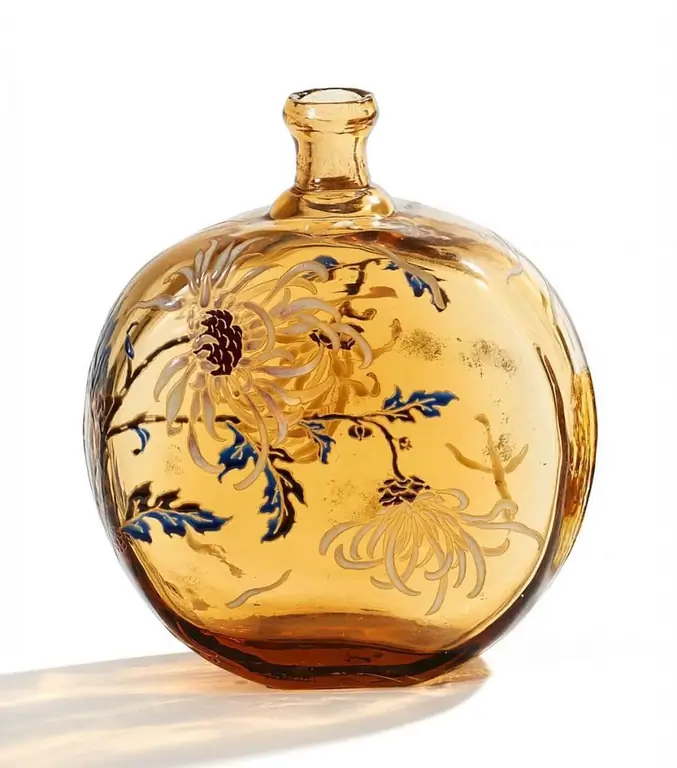 Features of creativity
Despite the fact that Galle mixed many different styles and trends, he always created something new and unusual, something mysterious. In addition to nature, literature was of great importance to him. For example, some Art Nouveau vases by Émile Galle had a poetic addition that was an integral part of the piece, linked to the design of the item or its owner. The master took quotes from the works of such poets as Francois Villon, Charles Baudelaire, Stéphane Mallarmé, Paul Verlaine and others. Later, he began to use this technique in the manufacture of furniture.
The adaptation of his work to the owner's personality is a common trait among Art Nouveau artists.
Galle liked to play with the nature of the materials he used. He cared about the quality of the material and worked on new techniques. The master liked to play with the transparency of the glass and create new visual effects. He patented several new glass processing processes.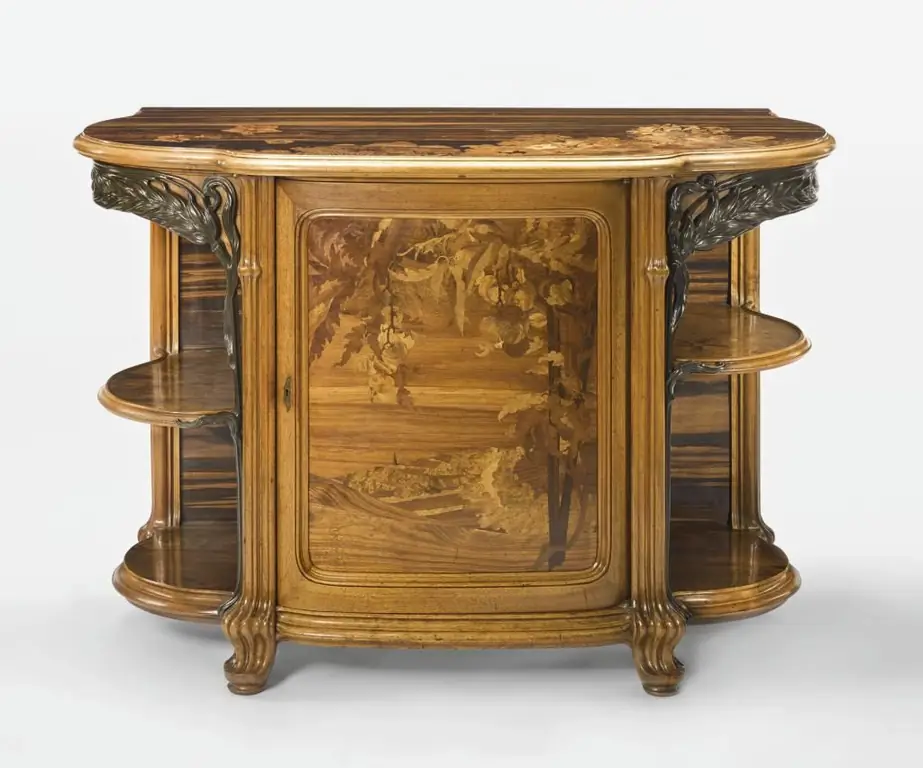 Main work
Master created many works. Among them, for example, the following can be mentioned:
Bedroom "Dawn and Dusk" (1904).
Rhine River table (1889) on display at the 1900 World's Fair.
Stained-glass vases by Emile Galle in metal frames, as well as numerous items with floral motifs: cornflowers, "Rose of France" and "French Rose", with iris, in the shape of a rolled banana leaf, with lotuses, with clematis, with poppies, "Willows at sunset", with dahlia, with anemones and dragonflies.
L. de Fourcot in 1903 published the book "Emile Galle", which in fact preceded the book "Ekritrites for 1884-89" ("Notes on Art 1884-89"). It was published posthumously in 1908 and is still of interest to people.
Recommended: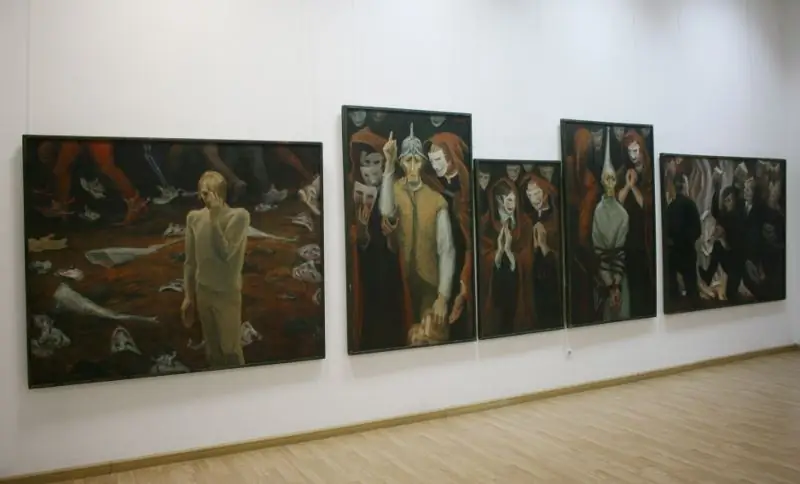 People's Artist Nemensky Boris Mikhailovich rightfully deserved his honorary title. Having gone through the hardships of the war and continued his studies at an art school, he fully revealed himself as a person, subsequently realizing the importance of introducing the younger generation to creativity. For more than thirty years, his educational program of fine arts has been operating in the country and abroad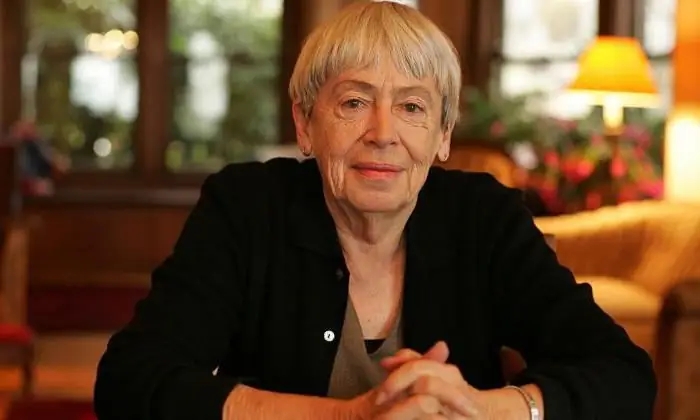 Today we are talking about a woman who is called "bed, journalist and literary critic." Ursula Le Guin is her name. And the most famous works of this amazing woman are connected with the Earthsea cycle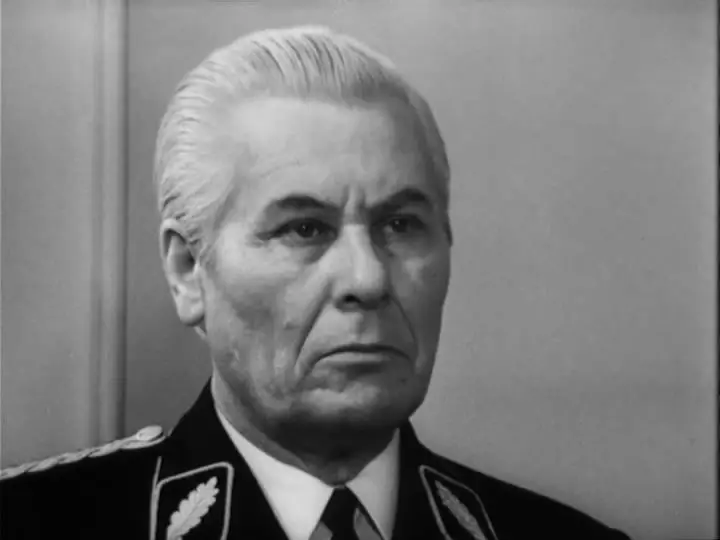 Actors of the past generation. The audience adored them. Films with their participation were very popular. They really became the universally recognized favorites of the public, real artists. And not a single person had the right to deprive them of this title. Unfortunately, most of these great people are no longer alive, but they will remain in our memory forever. Our wonderful actors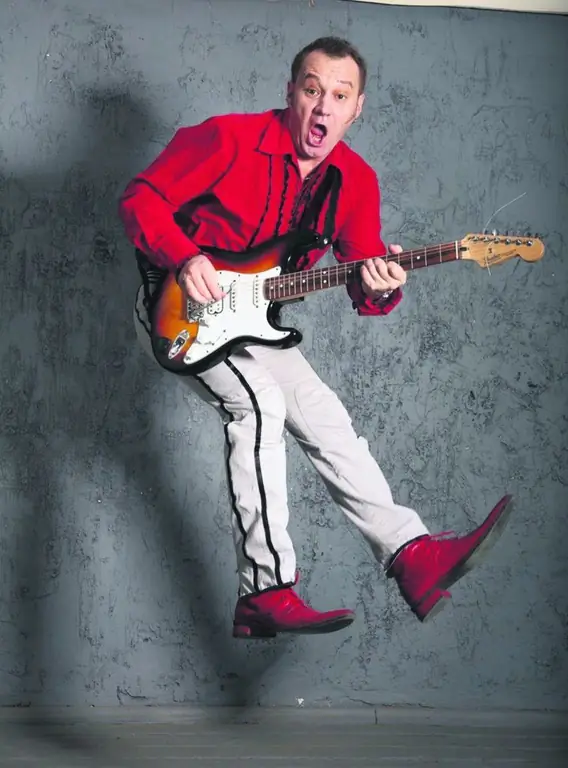 The generation of the post-Soviet space grew up on the legendary comic show "Masks". And now the comic series is very popular. It is impossible to imagine a TV project without a talented comedian Georgy Deliev - funny, bright, positive and so versatile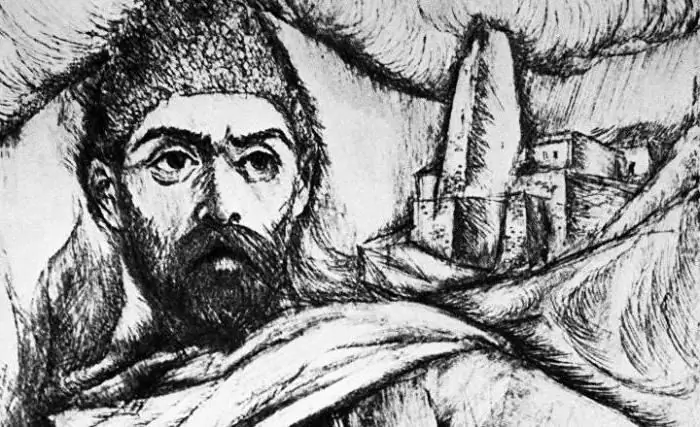 Kosta Khetagurov, whose biography arouses the undisguised interest of fans of true talent, is an artist and sculptor, poet and educator, the pride of Ossetia, the founder of the language and literature of this country. In his works, written in Russian and Ossetian, Kosta Khetagurov, whose work was highly appreciated by his followers, opposed the oppression of the peoples of the Caucasus and defended their national dignity